Executive Director | Founder and Senior Fellow | Board of Directors | Former Board Members
Executive Director
Amy C. Morton has served in local, state and national education roles since 1983. In addition to serving as EPLC's Executive Director, Amy works with Pennsylvania educators and policymakers as a System Design Specialist for the National Center on Education and the Economy (NCEE) and serves as one of their national facilitators.
Amy spent several years working for the PA Department of Education, including Executive Deputy Secretary (Chief of Staff) under Governor Corbett, Deputy Secretary for K-12 Education under Governor Rendell, and Bureau Director for Curriculum under Governor Ridge. Amy led the Capital Area Intermediate Unit as Executive Director after serving as Curriculum Specialist, Director of Education Services, and Assistant Executive Director.
Her career began as a high school social studies teacher after graduating from Dickinson College in Carlisle. She earned her M.S.Ed. from McDaniel College and her Superintendent Letter of Eligibility from Shippensburg University. Amy has taught curriculum courses for Penn State York, York College, Wilkes University and Wilson College as an adjunct professor.
When not working, Amy enjoys hiking in the Fall and Spring; water parks, canoeing, and tubing; and listening to audiobooks downloaded from the public library as she travels throughout the commonwealth. She and her husband, Dale Hockensmith, reside in Enola, PA.
Founder and Senior Fellow
Ron Cowell has been Senior Fellow at The Education Policy and Leadership Center (EPLC) since January 1, 2023.  Ron started EPLC in 1998 and from 1999 to 2022 as president or executive director.  He is an experienced policy leader who also is a frequent speaker, writer and advisor concerning public policy and education policy issues.
EPLC an independent, non-partisan and not-for-profit organization based in Harrisburg since 1999.
Prior to starting EPLC, Ron served as a member of the Pennsylvania House of Representatives for twenty-four years until 1998.  While in the Legislature, he served as the majority or minority chair of the House Committee on Education for twelve years.  He also served for twelve years as a member of the Pennsylvania State Board of Education and for twenty years as a board member of the Pennsylvania Higher Education Assistance Agency (PHEAA).
Since leaving the Legislature, Ron served as a member of the Board of Visitors for the University of Pittsburgh's School of Education, the boards of directors of the Pennsylvania Humanities Council and Communities in Schools – Pennsylvania, the Education Committee of the Institute of Politics (University of Pittsburgh), and the advisory board for the Office of Child Development at the University of Pittsburgh.
Ron previously was a trustee of Western Pennsylvania School for the Deaf, Community College of Allegheny County, and the University of Pittsburgh.  He also was a member of the Governor's Commission for Children and Families and the Governor's Commission on Preparing America's Teachers.  He has been a board member of many organizations including the Pittsburgh Children's Museum, Pennsylvania Partnerships for Children, Gateway to the Arts, NEED, and the Family Support Policy Board in Allegheny County.
At the national level, Ron served as a member of the National Education Goals Panel, and held leadership positions with the Education Commission of the States, the National Conference of State Legislatures, and the National Association of State Boards of Education.  He also served as a board member of the Association of Governing Boards of Trustees of Colleges and Universities (AGB) for nine years and was a member and chair of the Recognition Committee of the Council on Higher Accreditation (CHEA) for several years.
Ron is a graduate of the University of Pittsburgh and Widener University Law School.
Assistant Executive Director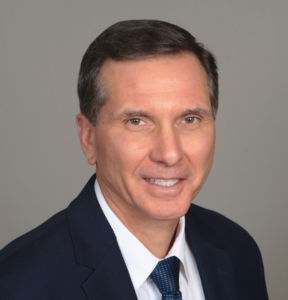 Mark D. DiRocco is an experienced school leader and strong public school advocate with 44 years of experience including 39 years in a variety of leadership roles. He believes that providing quality education to our children is one of the most important responsibilities of our society and is passionate in his support and advocacy for public education. Mark understands that an effective superintendent can have a significant positive impact on students, staff, and an entire community.
Mark served as a public school educator for 38 years in four different school districts. He stated his career as an elementary teacher for 5 years in the Muncy School District before pursuing a career as a school administrator. After a brief stint as Assistant Jr.-Sr. High School Principal in Muncy, he served as Jr.-Sr. High School Principal in the Sullivan County School District for 10 years. Mark held several administrative positions in the Lewisburg Area School District over a 22 year period including Middle School Principal, High School Principal, Assistant Superintendent, and served as Superintendent of the district for his final 14 years from 2002 to 2016.
Mark served as the Executive Director of the Pennsylvania Association of School Administrators from 2016-2022. He provided support, guidance, and a variety of services to school superintendents and school district leaders. He is best known for the series of virtual briefings that he conducted for superintendents across the state during the height of the pandemic providing detailed and valuable information in a time of confusion and uncertainty. As of 2023, Mark formed a consulting firm to serve public school leaders across Pennsylvania.
Board of Directors
The EPLC Board of Directors includes nineteen members. Click on a member below to view their profile:
Harris Sokoloff, Chair
Sharon Brumbaugh, Vice Chair
Gerald L. Zahorchak, Secretary
Mark Despotakis, Treasurer
Colonel Charles D. Allen, USA, Retired
Judith Bookhamer
Michael Churchill
Arnold Fege
Gretchen Generett
Thomas Gentzel
Jay Hertzog
Wayne McCullough
Shileste Overton Morris
Susan Mukherjee
Bridget O'Connell
Heidi Ondek
Rhonda Rabbitt
Christopher Wakeley
Former Board Members
Bonita Allen
Jim Buckheit
Joseph Clapper
Moe Coleman
Ronald Cowell
Jerlean Daniel
Jackie Dixon
Mark DiRocco
Edward Donley
Sheila Dow Ford
Joan Duvall Flynn
Judith Eaton
Helen Faison
Mchelle Figlar
Dan Fogarty
Karl Girton
Paula Hess
William Isler
Terry Madonna
Roberta Marcus
Kay McClenney
Clyde McGeary
Herman Reid
Sue Rohan
David Sallack
Peggy Siegel
Dave Skerpon
Wendy Etheridge Smith
Stinson Stroup
Roy Truby
Michael Usdan
Betsey Useem
Ira Weiss
Robert Wilburn
Sandy Zelno